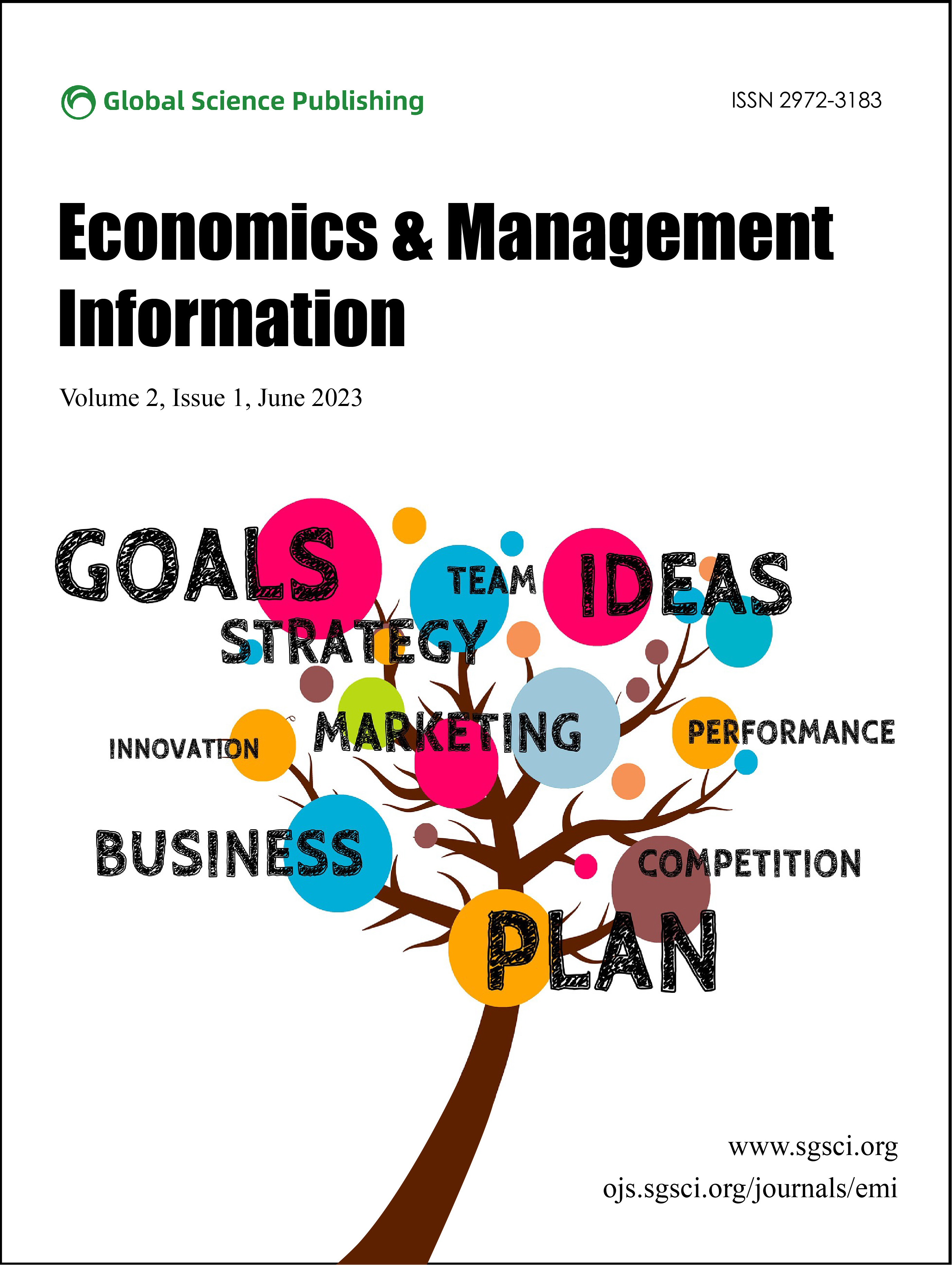 Downloads
Download

Chen, J., Zhang, Y., & Zhang, R. (2023). Exploring the Road of Digital Transformation of Agricultural Marketing Based on the Perspective of Platform Economy. Economics & Management Information, 2(1), 1–10. https://doi.org/10.58195/emi.v2i1.53

Copyright (c) 2023 jiaxian chen, Yu Zhang, Rixin Zhang
This work is licensed under a Creative Commons Attribution 4.0 International License.
Exploring the Road of Digital Transformation of Agricultural Marketing Based on the Perspective of Platform Economy
In order to meet the trend of digital transformation and build a marketing system for agricultural products in the form of platform economy, this paper adopts the literature research method to analyze the coupling of the two concepts of platform economy and agricultural products marketing under the framework of digital transformation, and explain the immaturity of marketing subjects, non-standardized marketing channels, unsuitable logistics system, unsuitable marketing products and unclear marketing rules under the current digital transformation mode of agricultural products marketing. The problems of quality assurance and unclear marketing rules. As a result, this paper puts forward policy suggestions, namely, taking the government as the leader, actively exploring new thinking, new ideas and new roads for digital transformation of agricultural products on the basis of improving the legal system, and building a standardized, extensive and innovative Internet agricultural products marketing platform by strengthening the training for relevant practitioners.
platform economy
agricultural products marketing
digital transformation

References
Zhu M. Research on the Construction Model of Ecological Agricultural Products Marketing System Under the Perspective of Circular Economy. Agricultural Economics 2019; (07): 139–140.
Yin ZT, Chen YS, Xu JJ. Typical Characteristics of Platform Economy, Monopoly Analysis and Anti-Monopoly Regulation. Nankai Management Review 2022; 25 (03): 213–226.
Hao Z, et al. Innovation Incentives and Monopoly Regulation in the Digital Platform Economy - a Perspective Based on Technology Ecosystem Coevolution. Modern Management Science 2021; (07): 94–107.
Wu X. Research on the Integration of Digital Economy and Rural Industry Development. Southwest Finance 2021; (10): 78–88.
Guo J, Liang S. Mechanisms of the Impact of the Digital Economy on Total Factor Productivity in China: Enhancement Effect or Suppression Effect?. Southern Economics 2021; (10): 9–27.
Zhang F, Li C. Exploring the Marketing Strategy of "Short Video + Agricultural Products" Based on Mobile Internet Platform. Northern Horticulture 2020; (22): 155–161.
Feng K. Research on Branding of Agricultural Products in the New Media Era. Agricultural Economics 2021; (07): 131–132.
Xu Y. Exploring the Role of Agricultural Information Construction in Rural Economic Development. Agricultural Development and Equipment 2022; (01): 49–51.
Li DW. Agricultural Product Marketing Channel Optimization: Problems and Countermeasures. Agricultural Economics 2021; (08): 114–116.
Lv X. Limitations of E-Commerce Development of Agricultural Products in China and Coping Strategies. Business and Economic Research 2021; (10): 83–86.
Zhang Y. Integrated Model of Agricultural Marketing and Logistics in the Context of Big Data. China Fruit Tree 2021; (08): 113.
Zhao N. Model Innovation of Agricultural Product Marketing to Meet the Consumer Demand of "Internet+". Agricultural Economics 2019; (12): 127–128.
Zhang X, et al. Digital Economy, Inclusive Finance and Inclusive Growth. Economic Research 2019; 54 (08): 71–86. DOI: https://doi.org/10.4324/9780429328329-4
Jiang X. Analysis of the Application of Agricultural Information Technology in Agricultural Economic Development. Farmers' Counselor 2022; (03): 123–125.
Li ZW. The Development Status Oo China's Platform Economy and Regulatory Issues. China Economic and Trade Journal 2018; (04): 64–67.

Supporting Agencies